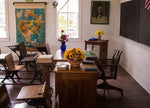 Part 4: True Botanica School Programs
This is the last post in our Back to School series. Be sure to check out any of the previous posts you missed: Student Survival Guide, Parent Must-Haves and Teacher Must-Haves
True Botanica offers a number of programs to support schools in their fundraising and outreach efforts.
Wholesale accounts are available for schools that wish to carry TB products in their school store! Even if you do not have a school store, we would be happy to work with you so parents could order straight from the school office. We also would love to come visit your school to offer a workshop on home health and the family or any topics you are interested in learning more about!
True Botanica also offers a program specifically to support Schools in their fundraising efforts. The way this school fundraising program works is we set up a code specific for the school, and 5% of purchases using that code go back to the school while the customer receives 5% off all purchases. The code is a great fundraising tool because it can be distributed to the entire school/community and people will know a percentage of their purchase goes directly back to supporting your school. Another great aspect of the program is it is an ongoing program, not just a single contribution.
Participating schools have raised a significant amount of money by connecting parents and faculty to True Botanica products, helping them realize that they do not necessarily need to "add" any supplements to their current health plan, rather, that True Botanica has a product to fill an existing need. For example, we offer full-spectrum, high quality multi-vitamins at a reasonable price, which most people use every day!
We would be happy to help you in your promotion efforts by providing information about who we are as a company, specific product and ingredient descriptions, assistance with product questions, and even by paying a visit to your school to have our founding physicians (including a pediatrician) give a lecture.
We are interested in helping those that are socially engaged in forming communities of like interest.
Please let us know what we can do to help support your school.